Most YRCW employees receive wage increases – first since 2013
Apr. 1, 2016 | Teamster-represented workers at the YRC Worldwide, Inc. (YRCW) are receiving wage increases as part of the first negotiated increases to kick in under the Extension of the Restructuring Agreement. The increases apply to the majority of Teamster-represented employees. Non-CDL employees hired after February 2014 will not receive the increases. Most workers will receive increases of 34 cents an hour or .850 cents per mile, effective April 1, 2016. It is the first increase in wages for YRCW employees since 2013.
Fulton County commissioners use taxpayer money to avoid settling grievances
Apr. 4, 2016 | In a press release issued today, Local 992 accuses elected County commissioners for refusing to resolve two outstanding grievances valued at just over $500, [deciding instead] "to spend potentially thousands of hard earned taxpayer dollars for an outside attorney to fight the Union..." Read the full release here.
Maryland sick leave bill gains new momentum on final day of session
Apr. 11, 2016 | After being declared all but dead last week, a bill that would require bosses to grant sick leave to their employees picked up new momentum on the final day of the Maryland General Assembly session on Monday. A version of the bill already cleared the House of Delegates, but has remained bottled up in the Senate Finance Committee. baltimoresun.com
Teamsters Locals 355 and 570 strike US Foods facility in Severn, Md.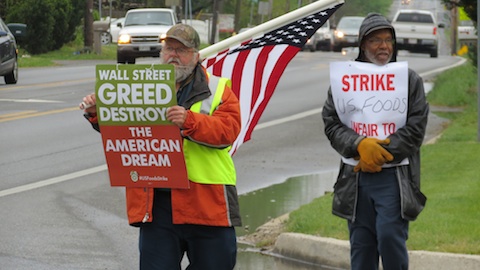 Apr. 28, 2016 | At 2pm yesterday, Teamster members of U.S. Foods in Severn, Md., walked off the job and commenced an unfair labor strike against the Company. The dispute centers around the Company's failure to bargain in good faith, its use of out-of-state and non-bargaining unit employees to perform work normally performed by the Teamsters, and the Company's attempt to deal directly with its employees concerning effects bargaining. US Foods employs approximately 190 Teamsters in both the warehouse and delivery operations. More at teamsters355.com and team570.org.