News Items - December 2013
Black Friday protests held at 1,500 Walmart stores; more than 100 arrested
Dec. 2, 2013 |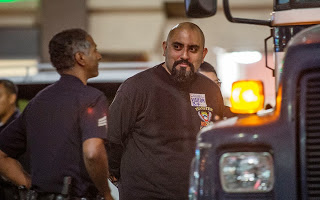 OUR Walmart, the non-union group arguing for labor protections, confirmed that protests were held at 1,500 stores on Black Friday to protest pay and calling for a minimum annual salary of $25,000 and better health care for hourly workers. (The average worker makes $8.81 an hour, forcing many to rely on taxpayer-funded public assistance programs to make ends meet. ) The protests took place in large cities — Chicago, Dallas, Los Angeles, Minneapolis, Philadelphia, Alexandria, Va. and D.C., Boston and Orlando — and stores in smaller cities and towns like Lakeside, Co., Granbury. Tx., and Hyattsville, Md. The company brought in $17b in profits last year. More at CBS News. Related: DC area Walmart workers, community supporters join protests. Also: Walmart's latest lie: "Unions paid $50 to anyone who protested." — Pictured: Brother Gilbert Castillo, IBT Local 396, arrested last month at a Los Angeles protest in support of Walmart workers. More at TeamsterNation.
Buy Made in America (or Canada) this holiday season
Dec. 3, 2013 |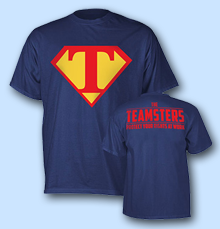 We know we don't have to remind you to shop at Costco, buy-union made beer and ship your holiday packages by UPS. You can also buy union-made Teamster gear at the Teamster Fund store: Teamster Power golf shirts, Teamster flip flops, Teamster earrings, Teamster trailer hitch cover, and our fav – the Teamster Hero T-shirt (shown at right). More ideas for gifts produced by American workers at Teamster Nation.
UPDATE: UPS Freight negotiations
Dec. 7, 2013 | The UPS Freight National Negotiating Committee met with the company earlier this week to discuss outstanding issues that members have identified as concerns. Another meeting is expected soon as both sides work toward an agreement that can be brought to the membership for a vote.
Teamster Local Union leaders approve holding member vote on YRCW proposal
Dec. 7, 2013 |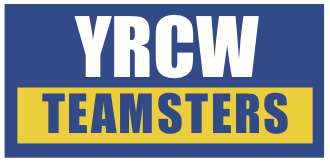 Leaders today from Teamster local unions that represent members at YRC Worldwide, Inc. (YRCW) approved providing their members the ability to vote on the company's proposed changes to the current Memorandum of Understanding (MOU). The company is proposing to extend and modify the current restructuring agreement from March 31, 2015, when it is scheduled to expire, until March 31, 2019...Ballots are tentatively scheduled to be mailed on or about December 10 and will be counted on or about January 8, 2014. More info here.
Hoffa: Detroit bankruptcy doesn't change pension obligations
Dec. 13, 2013 | The effects of the judgment are dire for Detroit municipal government retirees, and the precedent that such a decision sets cannot be overlooked. A spokesman for the Detroit Police and Fire Retirement System told The New York Times that if it could happen in Michigan it could happen anywhere. "If this ruling is upheld, this is the canary in a coal mine for protected pension benefits across the country," he said. "They're gone."… That cannot be allowed to happen. Read General President Hoffa's commentary here.
Teamster-backed D.C. taxi drivers achieve major victory
Dec. 20, 2013 | Due to the strength and unity of the Washington, D.C. Taxi Operators Association, affiliated with Teamsters 922, the Washington, D.C. government has extended the passenger-console deadline from Dec. 1, 2013 to Jan. 15, 2014?On Oct. 29, more than 1,000 drivers met to form their association. Since that time, the association has stood with drivers who are seeking more input into the rules and regulations imposed by the city. Read more about their victory at teamsters.org.