Local and National Union News

UPS/UPS Freight strike-authorization votes due June 3
May 22, 2018 | Updated Call the Local Union now if you have not received voting information: 301-739-7550. Requests for a new credential or re-credential code for voting will be accepted until noon (Eastern time) Friday, June 1.

Multi-employer pension crisis sparks reform
May 22, 2018 | What went wrong with America's union-sponsored multi-employer pension plans, including the fourth largest, the Teamster Central States Pension Fund? And how can Congress fix the crisis? In an in-depth and informative article, Northwest Labor Press – an independent, union-supported newspaper – explains what happened to the pension plans and explores how Congress could fix them. More than 1,300 plans were battered by the 2000 and 2008 financial crashes and "more than nine tenths of them have either recovered or are on track to recover. But the remaining tenth are in a death spiral, and not because of anything the trustees did or didn't do. Looking back, it's clear that policies set by Congress created the crisis." Read it here.

Drivers at XPO in Erie, PA seek Teamster representation
May 14, 2018 | Drivers at XPO Logistics in Erie, Pa. filed for Teamster representation today with Local 294, the latest action by workers across the U.S. who are banding together to fight for fair treatment at one of the largest transportation and logistics companies in the world. Teamsters

Freight Teamsters at ABF ratify National Master portion of contract
May 11, 2018 | ABF members have ratified the national master portion of the agreement and all but 9 supplements. The supplements that were rejected, however, must be addressed before the national agreement can take effect. The Maryland-District of Columbia Freight Council supplement was approved. Read more at Teamsters.

Strike-authorization vote ballot information and timeline
May 11, 2018 | Balloting information and instruction for electronic voting will be mailed on or about May 15 and all members should receive their ballots by Monday, May 21. Details for UPS members here. Details for UPS Freight members here.

UPS Local union leaders approve strike authorization vote by members
May 9, 2018 | Updated May 10 On Tuesday, May 8 leaders of local unions that represent UPS Package members approved a strike-authorization vote by members. On Wednesday, May 9 leaders of local unions that represent UPS Freight members also approved a strike-authoriazation vote by members. The local union leaders overwhelmingly approved proceeding with the member vote later this month. Members will vote electronically. Details will be forthcoming soon.
| | | |
| --- | --- | --- |
| | | |
| | | |
| | | |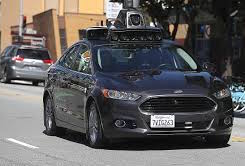 May 22, 2018
|
AUTONOMOUS VEHICLES
|
Self-driving cars are scaring more Americans than they used to. More people now say they would not ride in a fully autonomous car than those surveyed in late 2017, according to AAA. Some 73 percent of U.S. drivers surveyed by AAA said they would be afraid to ride in a self-driving vehicle, a 10 percent jump from 63 percent in October. About 64 percent of so-called millennials, ages 20-37, said they wouldn't ride — a big jump over the 49 percent at the end of 2017… cnbc.com
May 21, 2018 |

WORKERS' RIGHTS

| The Supreme Court has sharply restricted the rights of American workers to join with others to challenge their company for allegedly violating federal laws on wages, overtime pay or civil rights. The justices by a 5-4 vote Monday agreed with Trump administration lawyers and ruled employers may require workers give up their rights to join together in complaining if they are denied overtime pay or a minimum wage. In dissent, Justice Ruth Bader Ginsburg called the decision "egregiously wrong." She said the court upheld "these arm-twisted, take-it-or-leave it contracts" even though the labor laws of the 1930s have recognized "there is strength in numbers.".… Los Angeles Times [Note: Today's court decision does not affect union members.]
May 18, 2018 |

JOBS

| The falling U.S. unemployment rate is not creating a path to prosperity for low-wage workers who continue to struggle to make ends meet. A recent staff report by the Federal Reserve Bank of New York finds that the nation's 65 million workers currently scraping by in low-paying service jobs have few ladders to career success. As technology and globalization have increasingly taken hold, many traditional middle-class jobs that used to support a family have vanished… Teamsters