Local Union Update: Important Notice to All Members
Updated May 15, 2020: As you are aware, we are in unprecedented and challenging
times like we have never seen before because of the global health crisis. So to prevent
the spread of the virus (COVID-19) and balance the safety of our Union staff,
our Union Office will remain open to address your contractual issues and any
other relevant matters relating to your employment. For additional information
regarding the Local Union and Benefit Funds Offices, click here.
Our May general membership meeting is canceled.
There will be no membership meetings during June, July, and August
due to the summer recess.
Updates will continue to be provided as necessary.
Local and National Union News

An important message to our members: Thank you
April 2020 | Teamsters Local Union No. 992 understands these are not normal times or conditions that we are living in, and the COVID-19 crisis poses unprecedented challenges that face every member who is on the front lines of the coronavirus pandemic. Our members are working tirelessly despite their fears and sacrifices to serve the local communities they serve with the goods and services needed to keep the country and our local communities moving forward during this ongoing crisis… 992 News

---

Teamsters rally against racism
Aug. 7, 2020 | Listen to the latest edition of the Teamsters Podcast and how learn how the union joined with labor allies in the Strike for Black Lives. Plus, we hear from a NIOSH official about how truckers can remain safe on the job. Featuring interviews and audio from Teamsters Human Rights and Diversity Commission Director Marcus King; UPS driver and Local 804 member Antoine Andrews; Local 322 member Kim Campbell; Local 777 President Jim Glimco; and Dawn Castillo, the director of the Division of Safety Research for the National Institute for Occupational Safety and Health.

UPS wage increases update
Aug. 4, 2020 | As of August 1, 2020, UPS wages increase by 80 cents per hour for employees who had seniority on August 1, 2018. This brings the increases to a total of $2.25 per hour in the first three years of this contract. Two general wage increases remain. More info here. This flyer explains how the new contract structure works for part-time employees.

UPS shipping volume soars 65%
July 31, 2020 | The pandemic-fueled boom in online shopping shows no signs of slowing down, providing more business for delivery companies like UPS Inc. UPS said Thursday that its shipments from businesses to U.S. consumers soared 65% in the second quarter, helping lift the delivery giant to a $1.77 billion profit… Continue reading here Related: Why UPS skyrocketed on Thursday

What you need to know about Maryland's mask mandate
July 31, 2020 | Gov. Larry Hogan issued an executive order Wednesday expanding mask-wearing restrictions, mandating that everyone older than 5 must wear masks inside all public buildings, including restaurants, houses of worship, gyms, casinos, stores and office buildings starting Friday at 5 p.m. Masks also will now be required outdoors whenever it is not possible to maintain social distancing of at least 6 feet from others. Learn more here.

Package Division update from Denis Taylor, Director
July 30, 2020 | As all of you are aware, we are living through an unprecedented time at UPS. As the Covid-19 pandemic reached the United States, the shopping and buying habits of the general population changed dramatically. From online grocery orders to purchasing everyday items like paper goods and clothing, consumers are staying home and having these things delivered. The residential volume that our members are processing daily exceeds peak season levels by a large margin. No one feels the effects of this surge more than you. As a frontline essential worker you have kept this company afloat. You have worked through equipment shortages, manpower shortages, and personal protective gear shortages. The only thing we haven't seen shortages of is cardboard… Continue reading here.
| | | |
| --- | --- | --- |
| | | |
| | | |
| | | |
Aug. 7, 2020

|

OPINION

| Workers are facing unprecedented challenges in the age of the coronavirus. Many have lost their jobs, been temporarily laid off with no idea when they are going to return or been forced to work despite the ongoing health crisis. It has been a stressful time for millions in Michigan and across the country. But instead of letting anxiety over an uncertain future get the best of them, many workers are choosing to get organized. Hardworking Americans, even those toiling in sectors that have traditionally not been union-friendly, are recognizing the value that comes from membership. As many struggle to get proper personal protective equipment and sanitized workspaces, they understand that coming together with co-workers can have benefits… Detroit News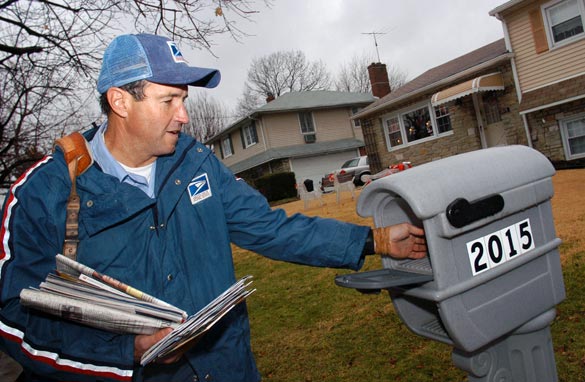 Aug. 4, 2020 |

PRIVATIZATION

| July has a flurry of confusion and stress for postal workers, as a barrage of new measures are threatening to fundamentally overhaul and undermine the culture and operations of the U.S. Postal Service. Earlier this month, the Washington Post reported on a memo from the new USPS Postmaster General Louis DeJoy urging postal staff to leave behind mail at distribution centers if they thought it would cause a delay for letter carriers. Another memo stated that the USPS would be looking to cut transportation and overtime costs, bringing about "immediate, lasting, and impactful changes" to the federal agency… Intercept
Aug. 3, 2020 |

ECONOMY

| Decades of soaring income inequality rendered tens of millions of Americans just one or two missed paychecks away from financial calamity. While CEO and shareholder income skyrocketed over the past four decades, ordinary Americans' wages stagnated. Even those juggling multiple jobs struggle to feed their families, leaving them unable to save for retirement or squirrel away money for emergencies. But it doesn't have to be this way. Labor unions force corporations to provide workers with family-sustaining wages, affordable health insurance, viable retirement plans, safe working conditions and other benefits that help workers survive crises like the pandemic. And only the growth of unions—along with a much-needed strengthening of U.S. labor rights—can restore fairness to the cruel economic system laid bare by COVID-19… LA Progressive
July 30, 2020 |

ORGANIZING

| With less than 100 days before election day amidst the deadliest disease outbreak of our lifetime, many election officials across the country are scrambling to expand voting by mail, early voting and other alternatives to showing up on election day so Americans can exercise their right to vote without risking their lives in the process. As the debate over alternatives to in-person voting plays out in our national discourse, another voting right under the law is equally under attack because of COVID-19 but has received little attention: the rights of workers to vote on union representation under the supervision of the National Labor Relations Board (NLRB). The National Labor Relations Board has been forbidden from conducting elections online in every congressional appropriations bill since 2012, in no small part because of baseless concerns on the part of anti-union members in the House of Representatives like Rep. Virginia Foxx (R-N.C.), who said that conducting NLRB elections electronically risks "hacking, fraud and coercion." This claim is absurd… Teamsters Union