Local and National Union News

Union pleased by House approval of stimulus bill containing pension reforms
Feb. 28, 2021 | The Teamsters are applauding the House's passage of a $1.9 trillion COVID-19 stimulus bill today that includes language granting relief to hundreds of endangered multiemployer pension plans that would protect the hard-earned retirements of more than 1 million American retirees and workers. Under the Butch Lewis Emergency Pension Plan Relief Act of 2021 language inserted into the legislation, more than 50 Teamster pension plans – including its largest, the Central States Pension Fund – will be eligible for assistance at the outset of the bill's enactment, with more of the union's plans becoming eligible in 2022…. Continue reading

One step closer: The House is voting on our pensions solutions
Feb. 25, 2021 | The full House of Representatives is preparing to vote on a bill that includes a solution to protect our pensions. We have an opportunity to ensure that the pensions we earned are there for us in our golden years. The Butch Lewis Emergency Pension Relief Act of 2021 is included in the broader COVID relief bill. Our votes elected pro-worker champions to Congress. Our voices made pensions relief a priority. Now, our actions will ensure that this critical bill moves through Capitol Hill. As America's strongest union, we can make it happen. Take two minutes and send a message to your member of Congress and demand that they vote to secure our pensions and pass critical relief for all working people.

New on Teamsters Podcast: Pension reform fight progresses
Feb. 24, 2021 | Listen to the latest edition of the Teamsters Podcast and hear how Congress is nearing a vote on legislation that would boost faltering multiemployer pensions, saving the retirements of more than 1 million hardworking Americans. Plus, learn how one Atlanta-based USF Holland trucker has set a standard for safety on the streets. Listen here.

Deadline is March 1 for James R. Hoffa Memorial Fund Scholarship
Feb. 22, 2021 | The deadline for applying for an academic or vocational/training program scholarship from the James R. Hoffa Memorial Scholarship Fund is March 1, 2021. The college and vocational scholarship programs are available only for the sons, daughters and financial dependents of active and retired Teamsters. Visit the scholarship fund's website here for information on who is eligible to apply and how to apply.
| | | |
| --- | --- | --- |
| | | |
| | | |
| | | |
Mar. 1, 2021 |

WORKERS' RIGHTS

| Workers in Alabama – and all across America – are voting on whether to organize a union in their workplace. It's a vitally important choice – one that should be made without intimidation or threats by employers. President Joe Biden yesterday released a statement voicing support for workers voting to form a union...
Feb. 25, 2021
|

ANALYSIS

|
Stress is still high as we approach the one-year mark of the Covid-19 shutdown. With so many uncertainties, the need for mental health support in the workplace has never been greater. In many cases, boundaries around the work/life balance have become severely blurred. Many employees who work remotely are feeling disconnected, isolated, and depressed. Families with children and parents learning and working remotely are left struggling to find a healthy balance between their personal and public lives. Although the problems of Covid-19 are global, the pandemic is impacting people differently. Research from The Center for American Progress reveals… Labor Press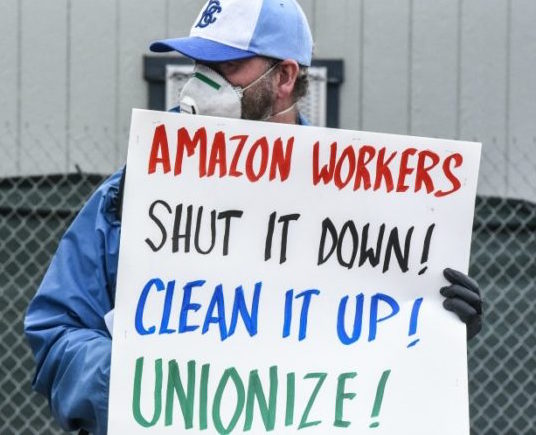 Feb. 24, 2021 |

LABOR

| […] Officials for the Retail, Wholesale and Department Store Union say Amazon workers in Bessemer received notification this past weekend that they were eligible for bonuses of $1,000 or more if they quit their jobs. RWDSU President Stuart Appelbaum said the bonus application deadline ends only a few days before the union vote is scheduled to be counted. "It demonstrates how terrified Amazon is of its workers getting a voice in the workplace," he said. "I think what's really significant about this offer is they're seeking to remove the workers who don't want to accept what's going on at Amazon and want something different. These are the people who would be most likely to vote for the union, and they wouldn't be counted if they quit." The union and others… AL.com
Feb. 23, 2021 |

BLACK HISTORY MONTH

| Black History Month goes hand in hand with labor history. Some of the most influential people in black history were also giants within the labor movement. Profiled here are four of the many who walked alongside the American worker in pursuit of a better future… Labor 411